Had to have a genuine Skee-Ball!  The whole family loves Skee-Ball.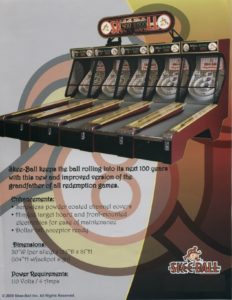 Didn't really need another project, so I got a good deal on a good Skee-Ball machine.
As shipped by STI/NAVL
This is a "Skee-Ball Classic Alley", it's modern, probably built in 2010, but designed like the classic Skee-Ball Alleys you've played since you were a kid.
This one is missing 5 balls, the remainder are those newer plastic balls.   They are just not the same as those old classic wooden balls.   The balls are reproduced and you can find them on eBay.   Apparently there is some debate whether the original balls where 3″ or 3 1/8″.   I ordered the 3 1/8″ balls from an ebay seller, and they are great.
The seller graciously broke down the machine for me for shipping.   I reassembled the two pieces, the nets, and the ticket dispenser.
These games are really well made, and a lot of fun!
I found replacement sand bags and numbers for the target board.   A couple of the numbers were coming off, and one of the numbers was missing.   The sand bag on the 50 point hole was gone, and the one on the 40 point hole had no sand left…  These were pretty easy fixes, but the targets have to come off to really do it right.   Here's some pictures of the internal ball chute and sensors.
All set up and ready to play…