This machine had (I've been told) been sitting in the Wurlitzer warehouse in Buffalo (Tanawanda) NY for many, many years. A friend had purchased the contents of the warehouse and moved it to Toronto. I picked up the machine from a dirt floor barn in eastern Toronto, and somehow fit it into my minivan. The alley section came all the way from the rear of the van to the rear-view mirror, and rested on the tops of my two front seats!
Driving across Toronto in freezing rain, with this thing perched on my shoulders was a bit nerve racking.
Once I got it home, I went through the mechanisms and found that most of them had seized up with old solidified grease. My only EM experience at that point had been on my Jacks Open pinball machine, so the insides of this shuffle bowler were very daunting. There are so many steppers, score reels, etc…
Backbox – Score reels, credits, and pin-reset mechanism.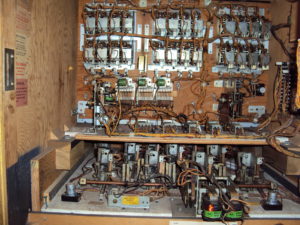 Various game relays, start game, scoring, bonus, etc.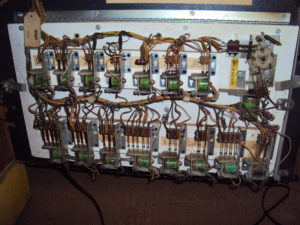 Units to track next frame scoring for spares and strikes.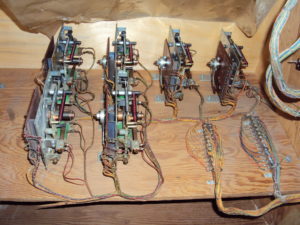 Back door, player unit, reset bank, flash unit, game unit.