A good deal presented itself on a "Star Wars Racer" game, so I jumped on it.   It was between this and a Need for Speed game, and the kids love Star Wars, so the Racer game it was.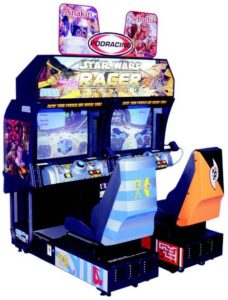 This is the Mini-Deluxe model.   The Deluxe model is HUGE, HUGE, HUGE.   I'm glad I've got the mini model .  It's about 7 feet long, about 6 feet tall, and about 3 feet wide and weighs about 500 pounds.   This game is a Pod Racer game from Star Wars Episode I.   This game has had the CRT replaced with a LG LCD monitor, and the power supply has been replaced by a computer power supply.   The game is in great cosmetic condition, as well as functionally.   It is a lot of fun to play.   This came from a Chuck-e-Cheese after they retired it.   It is HUGE, and heavy.   I rented a 14′ U-Haul to pick it up.  A friend purchased a basketball hoops game, and the two barely fit.   The seller helped me get it into the back of the truck with a fork-lift because we couldn't get it off the dock into the back of the truck.   Another lesson learned, rent a full-size truck next time, with a proper height bed.    Anyway, we got it in the truck and home.   I'm going to have to disassemble this thing to move it down to the basement since it is so large and heavy.
There's really not much work to do on this.   I had to drill out one of the locks to get into it.  It could use some cleaning, and a little touch up, and that will be about it.
Here's some pictures of it.
There was one spot where the bracing was coming loose from the side of the game, probably due to some stress we put on it when loading it.   I was able to glue and clamp this and I suspect it will be good as new now.   Here's a few of that, and inside the back.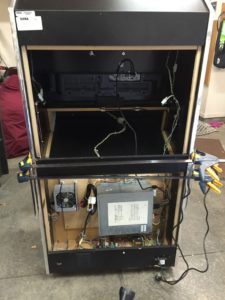 Computer cage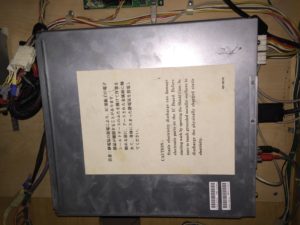 Power supply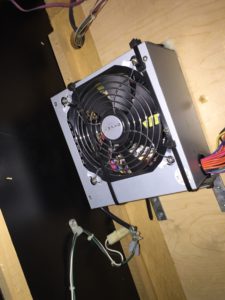 Subwoofer Amp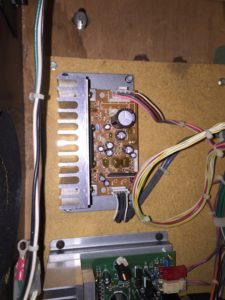 Main Speaker Amp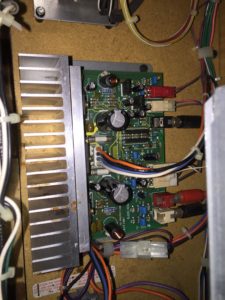 Pictures with additional detail for wiring.
It's in the gameroom finally.